SEPTEMBERS BLOG CHALLENGE IS ENTITLED
"VINTAGE DESIGN"*
SEPTEMBER 15TH - OCTOBER 14TH
WINNER ANNOUNCED OCTOBER 15TH ALONG WITH NEXT CHALLENGE ANNOUNCEMENT
Theres no better theme to try our flower ranges with than vintage!
ESPECIALLY OUR WHITE BLOOMS!!!!
Here at Sweet Lilac, we have decided to centre this months Blog Challenge around a vintage.
To enter..
Card entries can be made via email to
sweetlilacblog@yahoo.co.uk
or by sending a link to your entry on your blog.
The winner (to be chosen at random) will be announced on 15th October
and will be supplied with a hamper of flowers
and one of our very own "im a winner" blinkies
AS SHOWN BELOW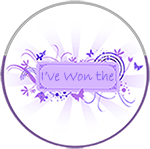 DESIGN TEAM DESIGNS BELOW
JO RICE
BLOG HERE
THERESA PACE